- THE SPORT TRAIL -
SPORT AND LEISURE
THE MEDOC ESTUARY IS A DIVERSE TERRITORY. HERE, ALONG THE INTERTWINING ROADS AND RIVERSIDE PATHS OF EUROPE'S LARGEST ESTUARY, THE SHEER FORCE OF THE NATURAL SURROUNDINGS IS ENOUGH TO INSPIRE ATHLETIC EXCELLENCE.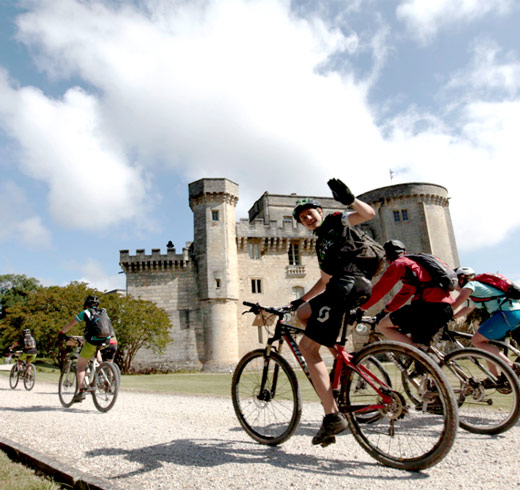 In this unique territory that spreads its paths throughout the estuary, through marshes and woodland, hopping from one bank to the other across stepping stone isles, natural havens.
The isles lead to other landscapes, with countless looping trails binding the territory together: travel them on foot, on a bicycle, on horseback, or even in a horse drawn carriage! Mile upon mile of paths snake through the landscape, taming the wild, sometimes mischievous environment… for extremely rewarding excursions!
Off the beaten track, innumerable activities are waiting to be discovered, including a series of golf courses set against a spectacular backdrop… From Margaux to Pian-Médoc, amateur and professional golfers alike stroll fairways that periodically play host to some of France's most prestigious tournaments.
The Estuary waters are a constant source of relaxation… River outings and cruises are the perfect way to uncover the hidden beauty of the maritime landscape.
WITNESS THE MASCARET SWEEP ITS WAY ACROSS THE ESTUARY WATERS: AN EXTRAORDINARY NATURAL SPECTACLE TO DISCOVER AT HIGH TIDE.
A WAVE OF WATER THAT CARRIES WITH IT COUNTLESS SURFING ENTHUSIASTS…