- HISTORY AND TERRITORY -
NATURE AND THE ESTUARY
ON THE BANKS OF THE ESTUARY, TIME SEEMS TO GO BY MORE SLOWLY. WITH ISLAND STOP-OFFS AND TRADITIONAL NET FISHING, THIS TRULY IS A HOLIDAY FOR THE SENSES. BUT IT NOT ALL ABOUT RELAXATION, AS THE STOUTNESS OF THE FORTIFICATIONS THAT STILL STAND ALL ALONG THE ESTUARY'S BANKS WOULD ATTEST.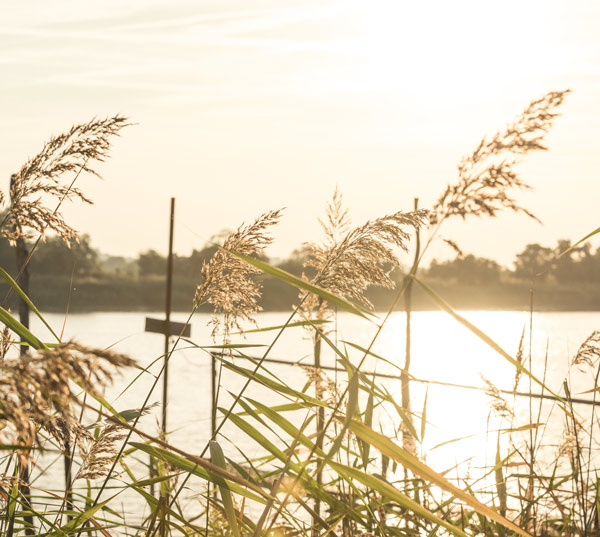 The untameable Estuary, carrying foaming seawater all the way to the bec d'Ambès (where the saltwater ends and the freshwater begins) is full of surprises…
Isles rise from the waters, like pencil marks on paper, shifting with the tides: île Nouvelle, île Paté, île verte, île du Nord, île Margaux, île Macau, île Cazeau… Every one has its own story to tell, its own idiosyncrasies, evoking the unique nature of the territory.
Discover a singular landscape that never stands still. This perpetual motion has forged a landscape with spectacular biodiversity.
Take a boat and hop from isle to isle, or drive down the roads that wind their way through the wetlands, all the way from the Gironde to the Garonne. This landscape provides a safe haven for otherwise vulnerable flora and fauna.
The biodiversity here is remarkable, thanks in no small part to the work of conservationists. The territory is a refuge for vast numbers of plants and animals (birds of prey, mamals, amphibians, fish…). It's also a key stop-off for many species of migrating birds.